Go Back
AI* of the month October: Marlous de Heer!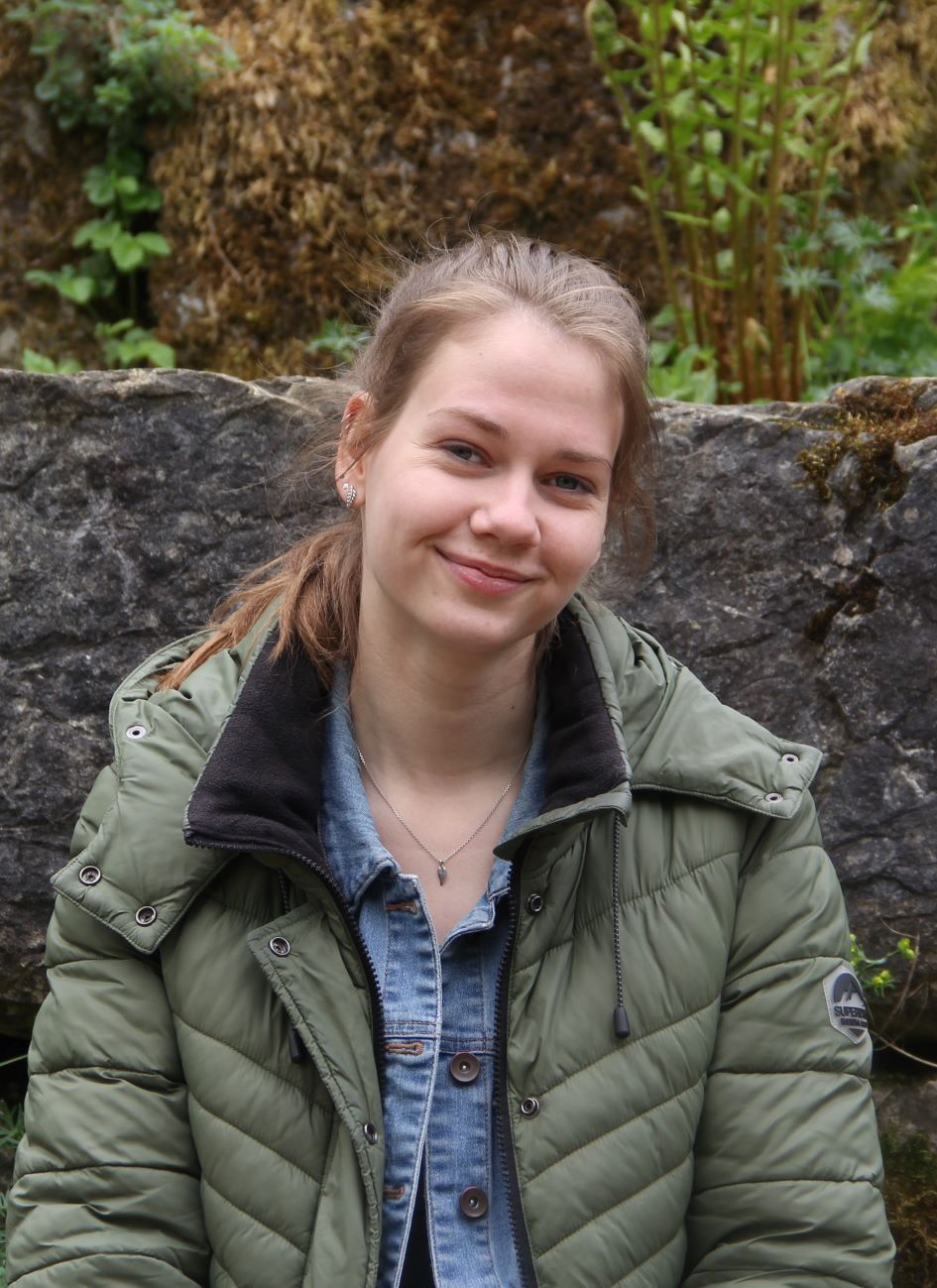 Wed, 7 Dec 2022
written by Olivier Timmermans
Hi Marlous, Congratulations on becoming the AI* of October! Could you introduce yourself to our audience?
Yes of course! Hi, I'm Marlous. I'm currently in the fourth year of my bachelor and I was born in Nijkerkerveen which is close to Amersfoort which is close to Utrecht. Uhmm that's about it. Oh yeah I started being an active member in my second year and also did a board year last year.
What kinds of things do you like to do outside of CognAC and Uni?
I really love being outside and doing things like walking (especially with my parent's dog). I also like helping around the yard back at home. Listening to music and watching some Netflix is something I also really enjoy but outside of that quite a lot of time is spent within CognAC and a bit on studying.
Well, spending quite some of your time within CognAC did make you AI* so the work does pay off. Talking about this how do you feel about becoming the AI* of the month?
It was really nice to hear that I became the AI* and it is quite the honour as well. Especially last year I spent quite some time on CognAC things so it's nice to see that that's appreciated :)
Well, you were chosen as AI* of the month because you have been an active member for some time and did quite a lot for the association. Could you tell us something about your journey as an active member?
Well, I became a member of CognAC in my first year but back then I had no clue what committees even were. I then heard from a friend of mine who was a part of the first years committee that they needed some help since they did not have enough people. I helped around a bit at the 1Cantus which was a lot of fun. In the first year I was still struggling a bit with getting used to studying and then Covid began in march, so becoming active in CognAC was not on my mind yet. Then in my second year I joined the AC together with Siena and that is where the journey really started.
Ah yeah covid is not the best way to start your studies and active member journey. After joining the AC you also joined some other committees within CognAC. Could you tell us something about those?
So when I was in the AC someone came up to me and asked me if maybe doing a board year would be something for me. The week after that question the first info session of the board was happening which I decided to join since it seemed interesting. I then applied for the board and also got selected as Chief of External affairs. Because I became Extern I joined the XC and it was advised to also join the Symco, so I did that as well. Then when I was in the Candidate board we had an online Lustrum due to Covid and we would have a physical lustrum in my board year which seemed very fun to organise so I joined the LC as well.
Well the lustrum is quite a big one. What was it like to organise such a busy and special week?
It was amazing to organise! It was of course very busy and hectic during the week and I also had an operation to remove my wisdom tooth that week which was not an ideal planning. This sadly meant that I needed to skip some of the activities. But to organise 2 weeks full of activities with quite a big committee was a very special experience.
As most people probably already knew you did a board year which you also mentioned before. Could you tell us a bit more about why you chose to do this and was extern also your first choice?
Doing a board year was quite a spontaneous choice. I went to the info session, I found it interesting, I applied and then I became extern. But, my first choice in the board was actually not extern, I actually wanted to become treasurer but, if I look back at it I'm happy I became extern. What I really enjoyed was interacting and organising stuff with so many different people from all over the Netherlands.
To continue talking about your board year. What was one of things you enjoyed the most about being in the board?
What was really enjoyable and also surprising is how close you can grow as a small group of people in quite a short amount of time. At the start of our candidate board period some of us already knew each other but I didn't really know the rest yet. After only sitting together a few times it already felt quite natural. I found it really special that even without knowing each other and having different backgrounds it just worked out.
Sometimes you hear that after something like this the group just splits up and never really sees each other again. Did this happen to you guys as well or are you guys still close?
I see everyone around campus still, I'm also in the same committee or doing the same courses as some of them so we still work together quite a bit :) We also still try to plan chillings with the 6 of us regularly but that is quite hard sometimes since we are all very busy.
Very nice to hear that you guys are still quite close together. We already talked about your favourite memory as a board member but, what is your favourite CognAC memory?
This is a difficult one to answer since there are so many fun things I did with CognAC. What I did find a special memory is the online lustrum week we had since it couldn't be held normally due to covid. I found it really neat how they were able to plan this. I really enjoyed the activities that I visited back then. Things like the Bob Ross workshop and the cocktail workshop were really nice.
You of course became a member of CognAC because you study AI. But why did you actually choose to do this study?
In the beginning I really didn't want to choose this study since my brother studied the same. But after going to quite some open days and looking at a lot of different studies I did see that AI would suit me the most. This was mainly due to the fact that the study is quite broad and I did not yet have a clear idea what I wanted to do later. I hoped that after the study I would know what I wanted to do.
Will you be finishing your bachelor's this year?
No, I'm going to probably finish my bachelor's degree around February next year so around I have a bit more than a year left.
That is coming up quite soon already then. Do you already have a plan for after the bachelor?
I'm still looking around for what exactly I want to do. I'm planning to do a masters but I don't know yet if I'll stick with AI or maybe move to computing science.
The AI study is not something exclusive to Nijmegen so why did you choose to do it here?
I found Nijmegen a lot more accessible as a city since it is not as large as Amsterdam for example. Groningen and Maastricht immediately weren't options since they were just so far away. Utrecht was also quite nice but it just didn't have the same feel as Nijmegen. My brother also studied here so I also already knew some things about the study, city and university.
Nice, basically the same reasons as why I chose Nijmegen except that for the brother part.
Nijkerkerveen probably has quite some travel time to Nijmegen so are you currently living in a room here?
Yes, I have now lived here for about 2.5 years. In February of my first year I got my room and then I could only enjoy it shortly since covid started quite quickly after that. So when that started I moved back homehome again but I did keep my room as well since it took quite some effort to get it. I'm very happy that I made that choice since getting a room in Nijmegen has definitely not gotten any easier.
So, you lived in Nijmegen for quite some time now. How are you enjoying it?
Well I live at a really nice location. The city, Uni and Train station are all within 10 minutes by bike so that is really convenient. I also live quite close to the Waalstrandje which I enjoy a lot. What I also really like about Nijmegen is that since it is not incredibly huge, it's quite easy to go and visit friends.
Do you have a favourite place in Nijmegen?
I think it has to be the Waalstrandje since it is so close it's easy to just go there for taking a walk or reading a book or just hanging around with friends.
Do you still have something to say to your fellow CognACies?
Ooh now I need to be inspiring. Well I would mainly say to try and attend the activities and don't be afraid to join a committee. They are there to learn and have fun!
Then to close it off. Do you have any shoutouts?
My own board (Yael, Cis, Fenna, Arne and Ishani), the current board for taking over so well, the XC, AC, SymCo and the LC.
Thank you very much for this interview Marlous!