Go Back
AI* of the month July: Lasse Kuipers!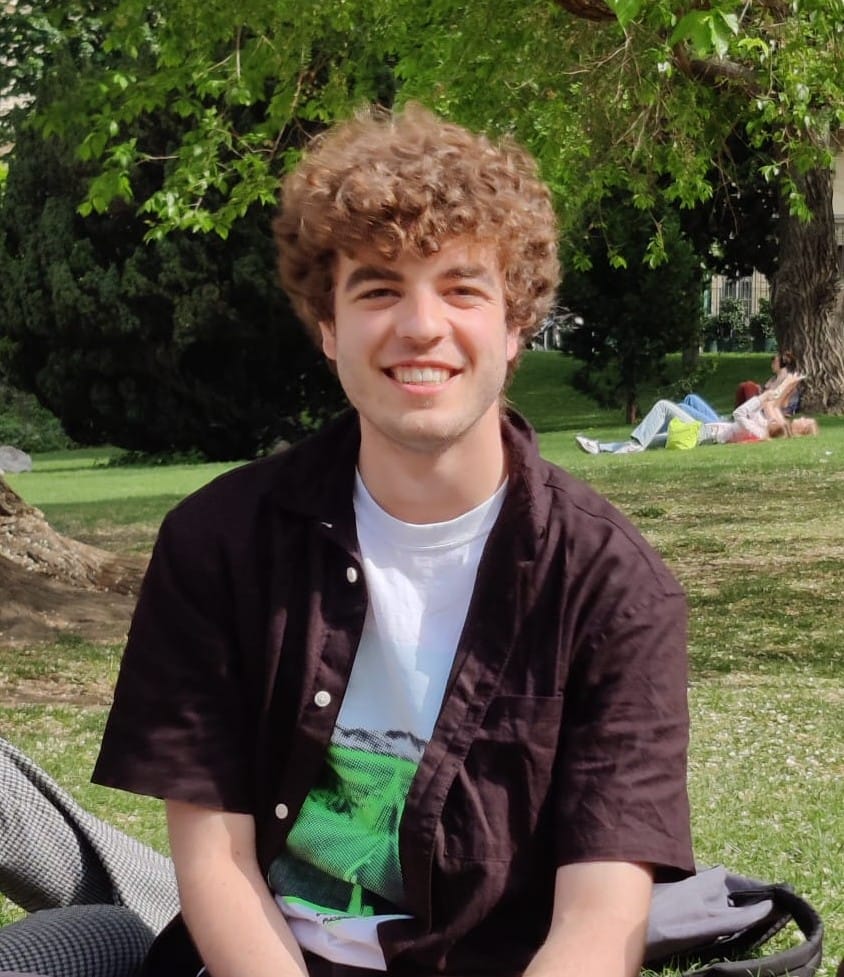 Sun, 4 Sep 2022
written by Ishani Udas
(interviewed by Yael Raz)
Congrats on becoming AI* (almost 2 months ago whoops), can you introduce yourself for us please?
I'm Lasse Kuipers, I'm 20 years old, and I will be starting my 3rd year and will also be the next chair of CognAC. I am originally from Deventer, and I lived there with my parents and older and younger brother. (I hate introducing myself because I never know what to say haha).
Haha no that's fine. How do you feel about becoming AI*?
When it was announced at the EOY activity, I was very surprised because I didn't even know there was an AI* of July, and I was caught mid-burrito during the announcement. I knew a friend had nominated me before but I really did not expect it.
Its nice that it was a good surprise. You mentioned you're going to be the new chair of the association, what other active member stuff are you currently doing?
I wanted to join CognAC because I wanted to meet people and it was really fun. In my first year, I joined the 1C (the corona year so everything online). We became a close friend group. After the 1C ended, I joined the WkC, SC and CTC. I really like those committees, especially the WkC because a lot of my friends are also in that committee. Currently that's the only committee I will be a part of next year, but I am thinking of joining the TraC once it starts up again.
Sounds good. You mentioned being the next chair of CognAC. Do you have any expectations for being chair?
I think its going to be really busy. The holiday was pretty chill, but this week is starting to become a bit intense as we have to start arranging things already. And when I see my upcoming agenda, its filled with CoBo's, but I think its going to be rewarding to be board and keep CognAC alive and meet new people. Its feels like it is going to be an enriching experience, sometimes I don't know what to expect but we'll see.
I get that because at the start you don't have time to see expectation being met, but time flies when you're having fun. Since you're going to be chair, have you been chair before? Or are you scared to be the big chair?
I'm not really scared. I was the chair of the CTC last year and Living Monopoly was a success, so I had some experience with leading meetings, etc. which is similar to my chair experience so far. I think there will be things I don't know but the more "chairy" things I believe I have the basics of. I'm not scared, but excited. I have "healthy nerves".
Of course, CognAC is based in Nijmegen. How do you like Nijmegen?
I really like it. At first, I wanted to go another university where my friends were, and it was a good university, but it didn't have AI. It was hard to find my place here at first, but this year I made a lot of friends and explored the city. I'm glad I chose it because it's a very cozy city and I like the vibe.
Do you have anything favorite about Nimma?
I really like hanging with friends, or chilling at TKB, or campus. As long as my friends are around me, I will be very happy.
Cute! Now we can't always be surrounded by friends or be at TKB. So what do you like to do outside CognAC?
Ahh the hobby question. Lately I've gotten back into reading again, and I really love music especially listening to music. I don't really know my way around any instruments. There's also the occasional bingewatch on Netflix.
Other than these fun hobbies, we're also in Nijmegen to study. Do you have a favorite AI subject/course?
I really like programming, but I feel like some newer courses took away the fun for me a little bit. But most fun courses are AI Lab Skills, and in my second year I loved NLP. I also loved the logic courses such as Formal Reasoning and Logic and Applications. I'm not really into the psychology type courses.
Hmm, this sounds almost like a CS student. Have you thought about potential masters?
No, I have no idea yet. I want to do 4 years for my AI bachelor. I initially struggled between AI and CS, and AI was more diverse which seemed more fun, which is why I chose it.
Going back to some more CognAC stuff because that's what binds us all, do you have a favorite memory of CognAC?
I really liked last year's intro-week because I got to meet so many people. I really liked the prom dinner in the lustrum week, also because we could finally announce the candidate board so it was really fun.
Speaking of candi-board time, how was it? What's the most important thing you've learned?
I think letting people know what I think and sharing my opinion more. Just being more present and assertive and being more secure in my own capabilities and using that to keep my board functioning.
Of course every candi-board writes a policy plan, do you have any favorite policy point?
I do really like the idea about committee reviews where we send a form to chairs and committees and we hope to use the reviews to make the committees better than what they already are.
Anything you want to share with members and our blog-readers?
I want to thank everyone from CognAC for being such a welcoming community that gave me many good friends and so many fun memories and I'm looking forward to what coming years will bring. Last year also taught me to not think too much about what others might think of you. As long as you are having fun and feel good, it doesn't matter what others think.
Lastly, who would you like to give a shoutout to?
Firstly, to my board, then the 31st board for keeping CognAC alive the whole year, my friends who have really helped me through the year, Siena and lastly shoutout to Micha for singing Smoorverliefd with me while cycling back home drunk from TKB.
---